Learn how to do business of making Aloo Chips!
How to start Business of making Potato Chips... any food product in the market are sold in bulk Potato Chips, Aloo-Potato bhujia. Many companies are producing various types of food products well in the Indian Markets.
To Start Potato Chips Making business, First some important registration Process you have to be completed. Like any other business you should do Registration in this as well as it is mandatory to get license from FSSAI. After that you will need about 2000 square feet of space. Good if your houses are available in so many spaces, the rest you have to rent.
Both machines start from your 40-50 thousand rupees, which depends on your project size. After this, if you want to do this on a big level, then take a commercial electricity connection so that you can get some benefit in electricity expenditure. After this you need ro-material to make Aloo Chips. After this you will need 3 to 5 workers. If you enlist the help of your household members, you can also hire or hire skilled workers. After this, you will need some vessel in which you have to remove Potato Chips and a big jar which is required to extract these stuff. Some vessel you have to keep large size in which a large amount of Potato Chips can be kept safe.
जानिए आलू चिप्स बनाने का बिज़नेस कैसे करे !
आलू चिप्स बनाने का बिजनेस कैसे शुरू करें... खाद्य उत्पाद मार्केट में कोई भी हो भारी मात्रा में बिक रहे है आलू चिप्स, आलू भुजिया । कई सारी कम्पनियां भारतीय बाजार में अलग-अलग तरह के खाद्य उत्पादों का प्रोडक्शन कर अच्छा काम कर रही है ।
आलू चिप्स बिजनेस को शुरू करने के लिए सबसे पहले आपको कुछ जरूरी रजिस्ट्रेशन की प्रक्रिया पूर्ण करनी होती है। आपको अन्य बिजनेस की तरह इसमें भी रजिस्ट्रेशन कराना है साथ ही FSSAI से आपको लाइसेंस लेना अनिवार्य होगा।इसके बाद लगभग 2000 स्क्वायर फीट की जगह की आपको जरूरत होगी। अगर आपके घर इतनी जगह अवेलेबल हैं तो अच्छी बात है बाकि आपको जगह किराये लेनी होगी।
आलू चिप्स मशीन आपके 40-50 हजार रुपये से शुरू होती है, जो आपके प्रोजेक्ट साईज के ऊपर निर्भर करती है । इसके बाद यदि आप इसे एक बड़े स्तर पर करना चाहते हैं तो काॅमर्शियल बिजली कनेक्शन ले ताकि आपको बिजली खर्च में कुछ फायदा हो सके। इसके बाद आपको आलू चिप्स बनाने के लिए रो-मेटेरियल की आवश्यकता होती है।इसके बाद आपको 3 से 5 वर्कर्स की आवश्यकता होगी। यदि आप अपने घर के सदस्यों के मदद लेते हैं तो भी ले सकते हैं या कुशल वर्कर्स को काम पर रख सकते हैं। इसके बाद आपको कुछ पात्रों की जरूरत होगी जिनमें आपको आलू चिप्स निकालनी होगी और आलू चिप्स निकालने के लिए एक बड़ा जार जो होता है उसकी जरूरत भी होगी। कुछ पात्र आपको बड़े आकार के रखने होंगे जिनमें ज्यादा मात्रा में आलू चिप्स सेफ रख सके।
Automatic Potato Chips Making Machine - Features
Optimum Performance
Highly Durable
Easy to Utilize
Low Power Consumption
Heat-Free Working Environment
No Skilled Labour Necessary
Market's Leading Price
Low maintenance cost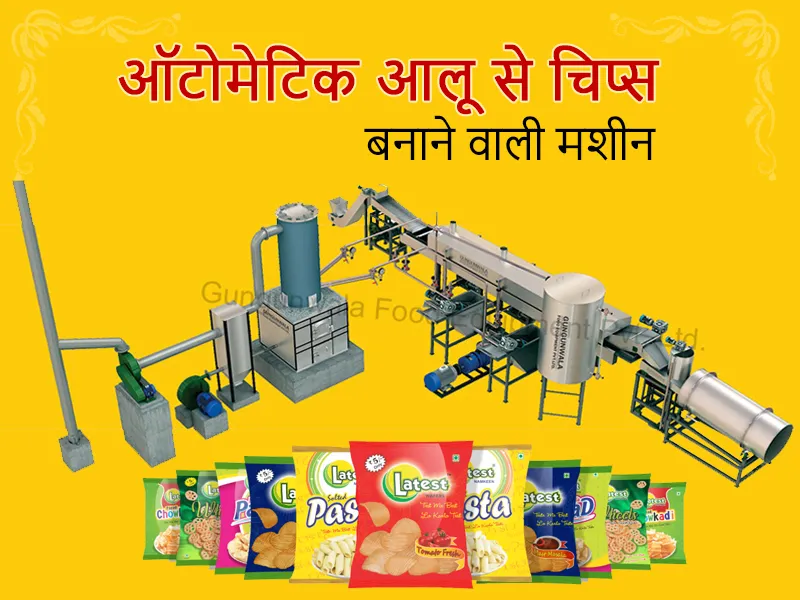 Potato Chips Making Machine at Best Price
After this you will need two machines. To make Potato Chips the first machine, which is called Potato Chips Making Machine, will be needed. The another Machine will be needed, which is called Fryer System. You can find this machine sitting at your house manufactured by Gungunwala Food Equipment. Gungunwala's Chips Production Line and Machines are considered the best in the Indian market. Contact us to solve your queries related to Potato Chips Making Machine Price, Potato Chips Machines Cost, Project Report, and any other Chips Production business.
आलू चिप्स बनाने की मशीन
इसके बाद आपको दो मशीनों की जरूरत होगी। पहली मशीन आलू चिप्स बनाने के लिए जिसका नाम आलू चिप्स मैकिंग मशीन होता है कि जरूरत होगी। दूसरी मशीन फ्राय करने के लिए जिसका नाम चिप्स फ्रायर मशीन होता है कि जरूरत होगी।ये मशीन आपको गुनगुनवाला फूड ईक्विपमेंट द्वारा निर्मित आपके घर बैठे मिल सकती है । गुनगुनवाला की आलू चिप्स मशीन भारतीय बाजार में सर्वश्रेष्ठ मानी जाती है आलू चिप्स बनाने की मशीन की प्राइस, आलू चिप्स मशीन की लागत, आलू चिप्स बनाने की प्रोजेक्ट रिपोर्ट, तथा अन्य कोई भी आलू चिप्स बनाने के व्यवसाय से संबंधित आपके प्रश्नों के हल के लिए हमारे से संपर्क करें ।